A dream place that was built for Mr. Potato head. In reality, it's there for your pleasured stay. The spuds on you, however there aren't any peelers.
The Idaho Potato Commission made this all happen to celebrate 75 years in 2012. They originally made it to travel the country to help celebrate.
The potato became so popular that it traveled for 7 years straight  The big potato  is 28 feet long, 12 feet wide, and 11½ feet tall.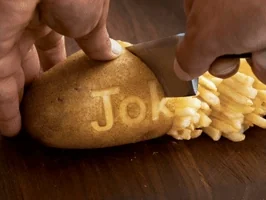 (Giphy)
Last year, the Idaho Potato Commission started working on the next version of the giant traveling potato. The first version was retired in late 2017.
The commission thought to find the potato a home at the Idaho Potato Museum in Blackfoot. Kristie Wolfe, a Big Idaho Potato spokesperson, had a different idea.
Kristie had experience building tiny houses, so she pitched the idea of making the original big potato into an inhabitable space.
It's an amazing hotel. Check it out abnb.me/zPswGmGcUT
© 2019 Corus Radio, a division of Corus Entertainment Inc.