Sriracha Beer Butter Grilled Corn
Ingredients
½ cup unsalted butter, chopped into cubes
3 tbs IPA beer
1 tsp sriracha
½ tsp garlic powder
¼ tsp kosher salt
6 ears fresh corn, shucked
2 tbs olive oil
salt and pepper
¼ cup chopped cilantro
Instructions
In a stand mixer fitted with a paddle attachment beat the butter until light and fluffy.
Add the beer, sriracha, garlic and salt. Beat until well combined.
Add the butter to a piece of plastic wrap, roll tightly into a log. Refrigerate until set, about 1 hour.
Preheat the grill.
Brush the corn with olive oil, sprinkle with salt and pepper.
Grill on all sides until lightly charred and tender, 8-10 minutes.
Add the corn to pieces of aluminum foil, top with several slices of butter, sprinkle with cilantro.
Add it on grilled chicken or pork, with steak or on burgers.
Ingredients
½ pound smoked bacon
3 tbsp butter
6 large finely diced red onions
6 cloves minced garlic
1 tsp freshly ground black pepper
½ cup maple syrup
¼ cup balsamic vinegar
8 ounces dark stout beer, (or one cup brewed coffee works very well)
½ tsp dry thyme
Instructions
Cut the bacon into ¼ inch pieces and fry slowly over medium low to medium heat until all the fat has been rendered out and the bacon is crispy, resembling bacon bits.
Drain off all the fat and add the butter, red onion, garlic and black pepper.
Cook over medium low heat for about 20 minutes until the onions have reduced considerably and caramelized.
Add the maple syrup, balsamic vinegar, beer(or coffee) and thyme. Simmer very slowly and reduce this mixture for another 20 minutes or more, until it reaches a jam-like consistency. Pay close attention to the jam, stirring often until practically all of the liquid boils off.
Serve warm or reheat a little at a tie in the microwave for a few seconds as needed.
This jam will last for several days in sealed container/s in the fridge or for much longer if you choose to make a large batch and follow proper canning/bottling procedures.
If keeping for longer than a week, use the pressure canning method recommended by the jar manufacturer.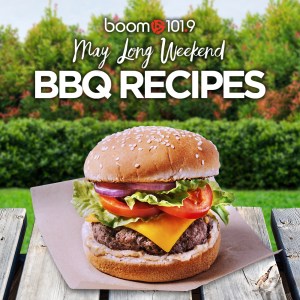 Beer Can Burgers
1 tbsp. 
Worcestershire sauce
Freshly ground black pepper
TOPPINGS
1 
jalapeño, thinly sliced
Heat grill to medium. In a large bowl, season beef with Worcestershire and garlic powder. Roll into ½-pound balls, then place a beer can in the middle to shape into a bowl. Press beef up the sides of the beer can. Gently twist beer can to come out of burger bowl and season with salt and pepper.
Wrap two slices bacon around the bowl. If stuffing with cheddar and jalapeño, top with cheese and jalapeños. If stuffing with peppers and onions, stuff with peppers and onions and top with a slice of provolone.
Grill until burger is cooked, 30 minutes for medium.
Serve on buns with lettuce and tomato.