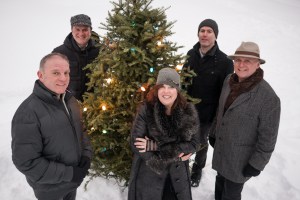 The Barra MacNeils – An East Coast Christmas will be at Aultsville Theatre on December 11th, 2019 at 7:30pm.
Reserved Seating Tickets $57.50 *
* HST & facility fee included, additional services fees may apply
Tickets available at the Cornwall Civic Complex box office located at 1 Water St. Monday to Friday from 8:30am – 4:00pm or online.
 The Barra MacNeils – An East Coast Christmas is a musical potpourri of traditional MacNeil family favourites gleaned from Christmas ceilidhs, midnight masses and the general festive frolic that accompanies each holiday season.  With their captivating vocals, distinctive harmonies and extraordinary musicianship, The Barra MacNeils inject new life and energy into the sights and sounds of Christmas…one moment a rousing chorus, then a hauntingly beautiful Gaelic ballad, the next a flurry of foot-stomping instrumentals, which of course pulls one then another into a step-dancing revelry. For a delightful seasonal celebration, don't miss An East Coast Christmas with the Barra MacNeils!
"one of the best five Christmas albums of all time!" – Globe & Mail
"a treasure of the East Coast, rich with tradition and unmatched in ensemble performance" – Halifax Daily News
Music Video Clips
Auld Lange Syne
https://www.youtube.com/watch?v=80PlTeDollo
Christmas in Killarney
http://www.youtube.com/watch?v=SdUrdZmzFPo
For more info: www.barramacneils.com or www.shantero.com