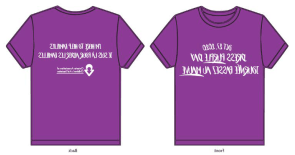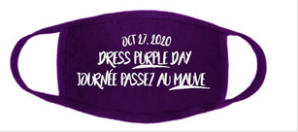 During the entire month of October, the communities of Stormont, Dundas and Glengarry will proudly be showing off their colors in order to raise awareness about the rights of children and youth to safety and well-being. Ontario Dress Purple Day is Tuesday, October 27th, 2020.
**Pre-order includes delivery. Deadline is Friday October 9, 2020.


Make sure to snap a picture & tag us on social media
#IDressPurpleBecause  #DressPurpleDay2020  #Jeportedumauveparceque    #JournéePassezaumauve2020
Something new this year.  We are also asking for your help getting the word out through #IDressPurpleBecause videos.
This year, in the lead-up to Dress Purple Day, we are inviting all Ontarians to create and post a video explaining why they will be wearing purple on October 27 and how it is they help children, youth and families facing challenges.     You can just follow these simple steps:
Introduce yourself (name, title, and organization)
Begin with "On October 27, I dress purple because…"and your reason for supporting the campaign.
Explain how you support families in our community.
Encourage others to join you in dressing purple on October 27.
Post the video to social media using the hashtag #IDressPurpleBecause.
Aidez-nous à colorier SDG de MAUVE!
Tout e le mois d'octobre, les communautés de Stormont, Dundas et Glengarry afficheront fièrement leurs couleurs afin de mieux faire connaître les droits des enfants et des jeunes à la sécurité et au bien-être. La journée passez au mauve est le mardi 27 octobre 2020.
Une nouveauté cette année : nous vous demandons également de nous aider à faire passer le mot au moyen de vidéos #Jeportedumauveparceque.
Cette année, en prévision de la Journée Passez au mauve, nous invitons tous les Ontariens et Ontariennes à créer et à mettre en ligne une vidéo expliquant pourquoi ils porteront du mauve le 27 octobre et comment ils aident les enfants, les jeunes et les familles aux prises avec des difficultés. Vous pouvez simplement suivre les étapes suivantes :
Présentez-vous (nom, titre et organisation)
Commencez par « Le 27 octobre, je m'habille en mauve parce que… » et expliquez pourquoi vous appuyez la campagne.
Expliquez comment vous soutenez les familles de la communauté.
Encouragez les autres à se joindre à vous en passant au mauve le 27 octobre.
Publiez la vidéo sur les médias sociaux en utilisant le mot-clic
#JournéePassezaumauve2020.
**La précommande comprend la livraison. La date limite est le 9 octobre.